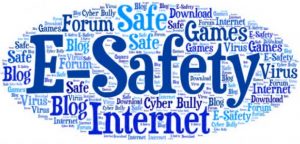 At Brighstone Primary School, your child's online safety is very important to us. Through our filtering and monitoring system, we can protect your child whilst still being able to enjoy the wonders of what the internet has to offer us, not only as an amazing learning tool, but also for your child's enjoyment. We can help families keep their children safe online through providing advice and guidance. Our weekly newsletter has an online safety page, and guidance is also published on our Facebook page.
If you have any concerns about your child's online safety, please do not hesitate to contact us.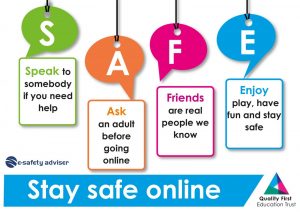 Useful websites
Please click on the links below the pictures to find the latest information and guidance about online safety, as well as sites where you or your child can ask for advice or support. Find out what sites are suitable, what are not and what you can do about it if you are worried or concerned. As a parent/carer, there are also resources available that you can use at home. Most importantly, there's also a place which anyone can use to report if they feel uncomfortable or worried about someone they are chatting to online.
Think U Know 'The National Crime Agency's CEOP Education team aim to help protect children and young people from online child sexual abuse. We do this through our education programme, providing training, resources and information to professionals working with children, young people and their families.'
NSPCC: Keeping Children Safe Online 'We all have a part to play in keeping children safe online. Find out how with our online safety guides.'
Child Exploitation and Online Protection (CEOP) 'Are you worried about online sexual abuse or the way someone has been communicating with you online? Make a report to one of CEOP's Child Protection Advisors'
Childline Staying Safe Online. 'It's not always easy to know what's safe online and what's not. Our advice can help you to keep safe and to know what to do when things go wrong.'
Kooth 'Your online mental wellbeing community. Free, safe and anonymous support@
Shout Advice helpline 24/7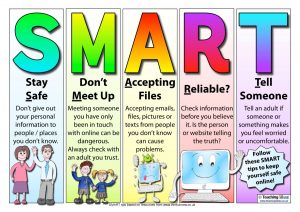 Always remember the SMART rules
S   Keep your personal information safe and secure
M  Do not agree to meet anyone you meet on the internet – they may not be who you think they are.
A  Do not accept any emails or messages from people you don't know. They may contain nasty viruses that would harm your computer or mean and nasty messages from them.
R  Remember, do not always rely on information that you find on the internet. It may not be correct.
T  Finally, if something upsets you when you are on the internet, always TELL an adult, whether you are in school or at home.
Let's stay safe in CyberSpace!
Please find below useful documents regarding Internet Safety
Parent-Factsheet- information & online resources
internet safety information & advice for parents
Internet Safety useful resources