Brighstone Primary School community!
You have a message…
Information about the potential partial reopening of schools for Reception, Year 1 and Year 6
Second letter to parents about reopening schools 22.5.20
Letter to parents about reopening schools 15.5.20
Overview_of_scientific_advice_and_information_on_coronavirus_COVID19
Coronavirus-back-to-school Social Story
Opening schools and educational settings to more pupils from 1 June – guidance for parents and carers
Coronavirus-parent-to-parent-advice-guide
Government advice – Help primary school children continue their education during coronavirus
Childrens Coronavirus Fact Sheet
Launch of the NHS Test and Trace service
The new NHS Test and Trace service has launched today and will form a central part of the government's coronavirus recovery strategy.
Anyone who tests positive for coronavirus will be contacted by NHS Test and Trace and will need to share information about their recent interactions.
People identified as having been in close contact with someone who has a positive test must stay at home for 14 days, even if they do not have symptoms, to stop unknowingly spreading the virus.
Further information on the NHS Test and Trace service can be found here:
https://www.gov.uk/government/news/government-launches-nhs-test-and-trace-service
Guidance on the NHS Test and Trace service for employers, businesses and workers can be found here:
https://www.gov.uk/guidance/nhs-test-and-trace-workplace-guidance
Guidance on how the NHS Test and Trace works can be found here:
https://www.gov.uk/guidance/nhs-test-and-trace-how-it-works
Public Health England has published guidance that explains what you should do if the NHS Test and Trace service notifies you that you are a contact of a person who has tested positive for coronavirus and you do not live with that person.
The guidance can be found here:
https://www.gov.uk/government/publications/guidance-for-contacts-of-people-with-possible-or-confirmed-coronavirus-covid-19-infection-who-do-not-live-with-the-person
Emergency School Closure Letter – Coronavirus (COVID-19)
Emergency provision letter.docx
COVID-19 Addendum to Safeguarding Policy 300320
Extra Information:
2020.04.21 HIEP email School Comms – open to parents revised
https://www.gov.uk/guidance/help-children-with-send-continue-their-education-during-coronavirus-covid-19
https://www.gov.uk/guidance/help-primary-school-children-continue-their-education-during-coronavirus-covid-19
For information whilst learning at home, please click here to be directed to the learning page.
 Or, alternatively, copy and paste this link : https://www.brighstoneprimary.org.uk/learning/
Home Learning letter for all parents
Important information regarding SAFEGUARDING during Schools Closure
At Brighstone Primary School, keeping children safe remains one of our top priorities during these unprecedented times.
Student well-being and safety are vitally important to us and during the enforced school closure period, we remain absolutely committed to keeping children safe. If you have any concerns regarding the safeguarding of children, we are still here for you so please do not hesitate to contact us in the following ways:
Phone: 01983 740285 and request to speak to the Designated Safeguarding Lead.
The office will be manned from 7.30am to 4pm Monday to Friday. For safeguarding concerns outside of these times please
email: safeguarding@brighstoneprimary.org.uk
At the moment, the office will be manned from 7.30am to 4pm Monday to Friday
If there is an emergency and you believe a child is in immediate danger, you must call 999.
If your concern is urgent, please contact the Hampshire MASH (Multi Agency Safeguarding Hub) line on:
0300 3000 117
childrens.services@hants.gov.uk
Out of hours contact telephone number for Children's Services
Phone 0300 555 1373
Online Safety
During this time, it is possible that children may be spending more time than usual online. Please continue to be extra vigilant when monitoring online controls to ensure their safety.
The 'Thinkuknow' website https://www.thinkuknow.co.uk/ is a useful website that is full of guidance materials and support with keeping children safe online.
Welcome to our School
Welcome to Brighstone C.E. Aided Primary School, a small school in a village community. This website is intended to help you know more about the life and work of our school, and how we work together to provide a rich, stimulating, happy and caring environment for children.
Our school is situated in an idyllic village on the beautiful south west coast of the Isle of Wight. Ours is a happy school, where children of all ages work and play together co-operatively.  Our school caters for children from 4 – 11 years old, with an onsite pre-school for children from birth to school age.  The school is small enough for each child to feel at home, surrounded by friendly and familiar faces throughout the school day. We provide children with a wide range of quality and exciting learning experiences which prepare them for their next steps in their learning journey.
The staff and governors at Brighstone C. E. Aided Primary work as a dedicated, caring and hardworking team in order to 'make things happen' for the benefit of the children. We believe that close links between home and school are vital in promoting a safe, nurturing environment for the well-being and success of every child, and we welcome parents' help, support and involvement, both in and out of school, enabling us to provide the very best opportunities for each child.  Click here to see some of our activities.
Our school values of love, courage and respect are promoted and shared throughout all aspects of school life.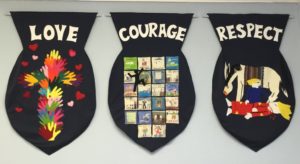 To keep up to date with day to day news go to our
Facebook page
 and like.    
Consultation Notice – Reduction in Brighstone CE Primary School Published Admissions Number (PAN)
From Monday 16 December 2019 to Monday 27 January 2020, In accordance with 1.42 of the Schools Admissions Code, the Governing Body for Brighstone CE Primary School consulted on the Admissions Arrangements for September 2021 because changes were proposed. The amendment is:
To reduce the Published Admission Number at Brighstone CE Primary School from 30 to 15 places in Reception with effect from September 2021. This means that the number of places available for children in Reception in 2021 and all subsequent Reception cohorts will be 15.
This is the only proposed change to the admission criteria, all other criteria, including oversubscription, will remain the same
A full version of the proposed changes to the admission arrangements I can be found by following this link: Admissions Policy 21-22
.