Our School Day
Our day at Brighstone starts at 8.15am when the gates open. At 8:25am our teachers open their classroom doors to welcome the children. For some, the school is only a short walk or cycle-ride away; others arrive by car, the school bus service or taxi.
Registration takes place at 8.30am (during which children take part in independent learning) and there is daily Collective Worship at 8.40am. Morning lessons start at 9am, with a 15-minute playtime break mid-morning. Lunchtime is staggered throughout the year groups, to enable each pupil to have plenty of space to play. In the afternoons, children take part in further lessons and the day finishes at 2.45pm. There may also be a mid-afternoon playtime break or the daily mile, as required.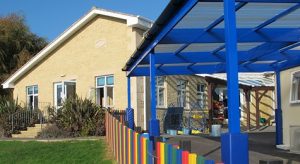 Reception Class children have their own safe play areas, with all-weather covers, to use throughout the day.
Wrap-around care (breakfast club and after-school provision) is run by the Brighstone Pre-School, which is on the main school site (click here for more information).
It is important that all of our children attend school regularly and that they arrive promptly in order to be settled and ready to learn at the start of each school day. Parents should inform us by 8.55am at the latest if their child is unable to attend school for any reason.
Should you be unavoidably detained at 2.45pm please let the school office know and arrangements will be made to care for your child until you arrive.