Brighstone CE Aided Primary School (registered charity no. 307389) sponsors several local causes as well as international ventures each year. Being a small village school, it is our aim to further develop strong links with the local village and surrounding areas. This enables children to see themselves as part of the local and wider community, and encourages them to reach out and support others. We also take part in charity events, raising awareness of and money for a range of different charities.
Each November we support Children In Need by encouraging the children to join in with a themed costume day, donating money as they do so. We also do the same for Comic Relief's Red Nose Day each Spring.
Every year we also take part in World Book Day, in which we raise money for Book Aid International, as well as our local Rotary Shoe Box Appeal whereby shoe-boxes are filled with goodies for disadvantaged children in Albania, Montenegro, Moldova and Romania.
Classes also raise money for charities as part of their topics; for example, Year 2 have raised money for Freshwater Independent Lifeboat, and Year 1 and 2 raised money for The National Trust.
We often take part in the MacMillan Coffee Morning in September, raising funds for a charity that supports those in need of specialist nursing care. And each year, we regularly have many children taking part in Walk The Wight to raise money for the island's Earl Mountbatten Hospice.
Brighstone Primary is also a member of the Unity Lottery – join up to win a cash prize and a percentage of your payment goes directly to the school as your chosen charity.
By doing your shopping online through Easy Fundraising, you are automatically giving a proportion of your spend to the school. It's so 'easy' to do! Just Join up and select us as your chosen charity, then click on the thinks on their site to visit the 'web shop' of our choice and make your purchases online as normal. The rest is taken care of.
So far this academic year (2020-2021) we have raised over £1600, including:
Mountbatten Hospice (£150), Royal British Legion (£170), Children in Need (over £170), IW Radio Toy Appeal (£150), Place2Be (£145), The Isle of Wight Zoo (£105 and hundreds of fruit and vegetables), Red Nose Day (over £170) and World Book Day (over £130).
What incredible generosity!
Remembrance Day
The school commemorated Remembrance Day by gathering in their socially-distanced bubbles to respect the 2-minute silence, followed by the Last Post. Each class created special poppy displays, and the whole school wore red, green and black for a donation to the Poppy Appeal. This was instead of buying single-use plastic items, such as wrist bands. We raised £170!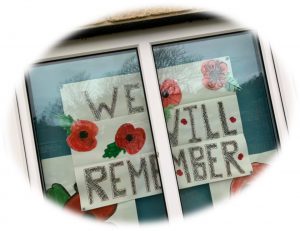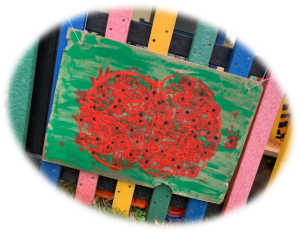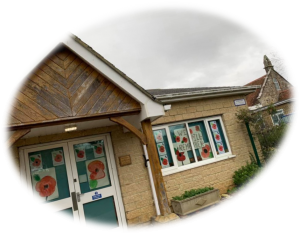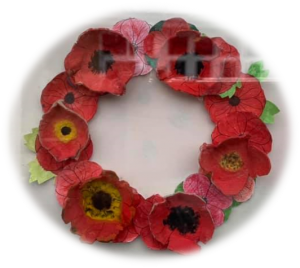 Cards for the community
During lockdown, we spread joy and happiness throughout the village when every child in the school made a card for members of the local community so they didn't feel so lonely. We teamed up with Brighstone's Community Hub Co-ordinator to identify people living alone in the village who would benefit from messages from the children. This gesture was very much appreciated and it was heart-warming to receive many cards and letters in return, explaining how we had touched and brightened many lives. This activity reflected our values of love and respect, as well as our Collective Worship values of generosity and compassion.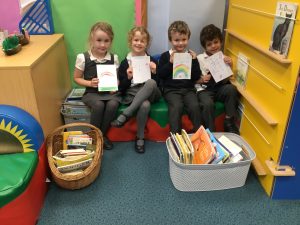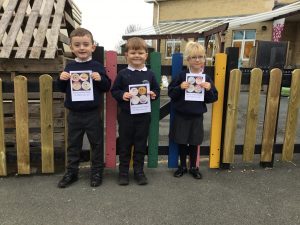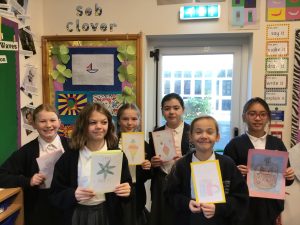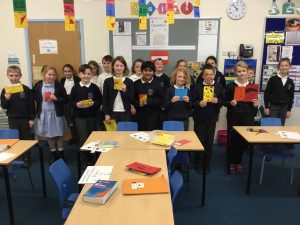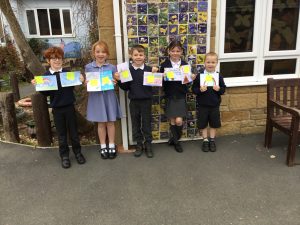 Reverse advent calendar
Children at Brighstone CE Aided Primary School have donated hundreds of items of fruit and vegetables for the animals at the Isle of Wight Zoo as part of a reverse advent calendar initiative.
Following Reception's and Key Stage One's school trip to the zoo at the beginning of November, the whole school were inspired to get involved in the Isle of Wight Zoo's 'Veg Pledge' scheme which helps the zoo to provide quality fresh food to their animals at minimal or no cost. In the three weeks leading up to Christmas the children donated hundreds of items of fruit and vegetables to provide meals for creatures including capuchin monkeys, meercats, porcupines, racoons, lemurs and the zoo's farm animals. We know how difficult it has been for the zoo this year due to the impact of the pandemic so felt inspired to support their veg pledge, which reflects this term's Collective Worship values of generosity and compassion.
Marc Fox, Animal Manager at the Isle of Wight Zoo said: "We are so grateful for the support of the local community which is helping us through these unusual times. The generous delivery of fresh fruit and vegetables from the children at Brighstone this December has helped us enormously, and the animals are very thankful for their tasty meals."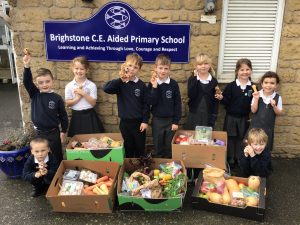 Hearts for Homes
With usual carol singing and care home visits cancelled due to COVID-19 restrictions, we aimed to bring some Christmas cheer to elderly residents in their local community by creating and delivering cards, pictures and letters to residents at Brighstone Grange care home. Pupils from the school would normally visit the home to sing carols each Christmas, but this year residents were able to watch our nativity performance online instead.
Linnet Hutchinson, Vital Coordinator at Brighstone Grange care home, said: "It was lovely to receive the drawings and messages from the children this Christmas; it has given our residents a real boost. They have also thoroughly enjoyed watching the school's nativity online, with the added bonus that it can be watched again and again! Thank you Brighstone School!"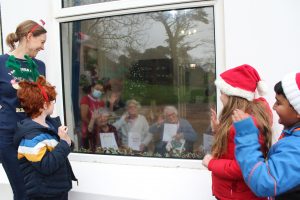 Red Nose Day 2021
The children are out to save the world! We had a fantastic day finding our inner superheroes as part of the Red Nose Day theme of 'superpowers'. In return for a donation, children came to school dressed as a superhero, either a well-known character or a made up one.
Throughout the day, the children took part in a range of activities around superpowers, such as the values of collaboration, courage, resilience and kindness, or practical superpowers such as epic dance moves, hilarious hopping or brilliant balancing! We also took part in a whole school 'Wake Up Shake Up' dance-a-thon.
In Ainslie class, they held a 'tell a joke' challenge, listened to more superhero stories and pretended to be superheroes inside and outside. In Lambert class, they created superhero masks in Art, wrote character descriptions of their superheroes, carried out some superhero balancing challenges around an obstacle course, made some balloon flying superheroes in Science, and explored a range of super skills, including super stamina, super hearing, and super minds. In Robertson class, they held a talent show linked to Kassy's speech in the book that they are currently reading, explored the reasons behind Red Nose Day and why we need it, took part in trust and team building exercises, and carried out a Comic Relief quiz testing their super minds! As part of their Romans topic, they also made shields and took part in a battle between the Romans and the Iceni tribe. In Macarthur class, they drew superheroes and took part in superhero Maths challenges. In Clover class, they created their own superheroes and their alter egos. They used their pop-art skills to represent them and when describing both characters' qualities, showed how they can create contrasts within their writing.
We raised over £170!