What is Eco-Schools?
 Eco-Schools is a global programme engaging millions of children across 64 countries, making it the largest schools programme in the world.
For more than 20 years Eco-Schools has been empowering children to drive change and improve their environmental awareness through the same simple seven-step process that has been used successfully across the world.
Eco-Schools improves pupils' skills, raises environmental awareness, improves the school environment and also creates financial savings for schools as well as a whole host of other benefits.
The Eco-Schools Programme is pupil-led; involves hands-on, real-world learning and gets the whole school and the wider community involved in exciting environmental projects.  The programme covers nine topics: Biodiversity, Energy, Litter & Waste, School Grounds, Healthy Living, Transport & Global Citizenship.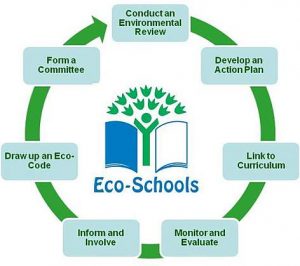 How it works
An Eco-Committee is formed to meet formally at least once every half term and informally a little more often to get stuck into the project work. At Brighstone there are two pupils from every year group on the committee. An Eco-Committee is supported by an adult Eco-Coordinator but led by pupils. Pupils are nominated by their peers to be on the Eco-Committee