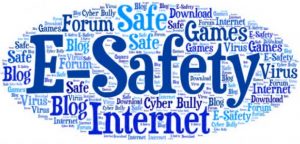 At Brighstone, your child's safety is very important to us. We pride ourselves on protecting your child whilst still being able to enjoy the wonders of what the World Wide Web has to offer us, not not only as an amazing learning tool, but also for your child's enjoyment
Please click on the link below to find the latest information with regard to the sites you like to visit e.g. facebook, mobile devices and new technology. Find out what's good, what's not and what you can do about it.  As a parent/carer there are also resources available that you can use at home. Most importantly, there's also a place which anyone can use to report if they feel uncomfortable or worried about someone they are chatting to online.
About CEOP
The NCA's CEOP Command (formerly the Child Exploitation and Online Protection Centre) works with child protection partners across the UK and overseas to identify the main threats to children and coordinates activity against these threats to bring offenders to account. They protect children from harm online and offline, directly through NCA led operations and in partnership with local and international agencies.
Their approach is holistic. Officers in CEOP and across the NCA who specialise in this area of criminality work side by side with professionals from the wider child protection community and industry.
Intelligence developed in the NCA intelligence hub informs NCA-CEOP operational deployments, steers their development of new capabilities and underpins their dedicated ThinkUKnow education programme for children of all ages, parents and carers.
Always remember the SMART rules
S   Keep your personal information safe and secure
M  Do not agree to meet anyone you meet on the internet – they may not be who you think they are.
A  Do not accept any e-mails or messages from people you don't know. They may contain nasty viruses that would harm your computer or mean and nasty messages from them.
R  Remember, do not always rely on information that you find on the internet. It may not be correct.
T  Finally, if something upsets you when you are on the internet, always TELL an adult, whether you are in school or at home.
Let's stay safe in CyberSpace!
Please find below useful documents regarding Internet Safety
Parent-Factsheet- information & online resources
internet safety information & advice for parents
Internety Safety useful resources